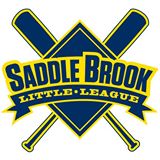 The Saddle Brook Little League (SBLL) offers baseball instruction for children between 4 and 12 years of age. It was established in 1953. Saddle Brook Little League maintains two fields in town, Nedellec Field on Saddle River Road and Victor Field on the corner of Victor St. and Kern Place.
The SBLL is an independent organization that does not receive funds from Saddle Brook Township. The League supports itself through Registration Fees and Fundraising.
SBLL starts practices in March or each year. Opening Day is in April with a parade and ceremony. Games start on Opening Day and run through early June.
Travel teams are created for District and Inter-Town play during the Summer (Late June through July). SBLL competes in District 5.
The League hosts a Home Run Derby each Spring and all players receive participation trophies at the end of the Spring Season.
For more information, please visit the following:
http://sbll.siplay.com - Saddle Brook Little League Online Registration